Bill's Story


A Friend Indeed - The Bill Sackter Story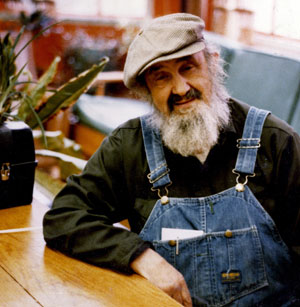 After 44 years in the institution, Bill's life was about to begin…

"A Friend Indeed – The Bill Sackter Story" is an inspiring documentary showing how a forgotten man and an uncommon friendship shattered the world's perceptions of people with disabilities.

Bill Sackter's life story was made famous by the award winning made-for-tv movie "Bill" (1981) starring Mickey Rooney as Bill, and Dennis Quaid as the young filmmaker Barry Morrow who had befriended Bill in 1972 and began filming their relationship and adventures.

Now get to know the real people behind the story in this engaging documentary featuring actual film and video footage and photographs of Bill Sackter himself, along with new interviews with the people closest to Bill, in an uplifting true story that has been over 35 years in the making!

With a harmonica, a warm cup of coffee and a positive embrace of life, get to know the real Bill Sackter, an international hero for people with disabilities, and witness how a little friendship and attention transformed Bill's life and everyone around him.

See Lane Wyrick's powerful new documentary "A Friend Indeed – The Bill Sackter Story" – voted the #1 Audience Favorite in five consecutive film festivals.

It's a highly entertaining and engaging real life story filled with laughter, inspiration, and emotion (a box of Kleenex is definitely recommended)!

Learn more at http://www.BillSackter.com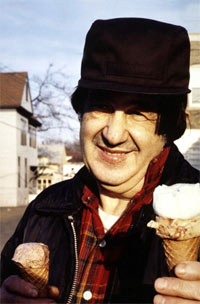 Since first meeting Bill Sackter over three decades ago, Barry Morrow's desire has always been to create a documentary about Bill Sackter. Working with a variety of film and video equipment as well as photographs Barry captured precious moments in his experience with Bill.
A national audience was given a glimpse of Barry's actual footage at the end of the TV movie "Bill" (1981), the documentary never got produced. Morrow went on to a successful Hollywood screenwriting career (he won an Oscar for "Rain Man"), and the source material has been in storage ever since.
Nearly three decades later, Barry met award winning documentary filmmaker Lane Wyrick at the Los Angeles premiere of his documentary "The Nazi Drawings" held at the Director's Guild Theater. Having met Wyrick previously, it was at this screening that Morrow passed the torch to Wyrick and chose him to take on this ambitious project. After Wyrick looked the potential of the story and the resources of film, video, photos, and possible interviews he decided that this production demanded to be treated as a feature length documentary.
After 7 years of research and production, Wyrick premiered "A Friend Indeed - The Bill Sackter Story" at Hancher Auditorium in Iowa City - the same location where the TV Movie "Bill" was screened 27 years earlier.
The documentary has a deep universal appeal as an exploration of the way we, as a society, have treated people with disabilities (from institutional abandonment to community embrace), and how human compassion and caring can really make a difference. The documentary is an emotional journey that is ultimately very inspiring.
It is appropriate for all ages and especially family audiences. Anyone viewing the documentary, even those that know nothing about Bill himself or the tv portrayal of him, will be left with the feeling that the real Bill Sackter is as close to them as a great friend.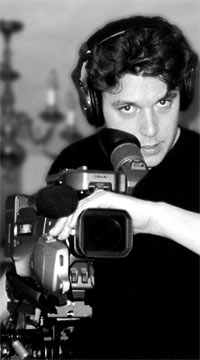 "A Friend Indeed - The Bill Sackter Story" is a 90-minute documentary created by Mid-America Emmy Award winning documentary filmmaker Lane Wyrick, that explores the emotional journey of Bill Sackter's extraordinary life in the context of the sweeping historical changes that he was a part of and helped influence to a large degree.
Photographs and film & video footage of Bill taken by Barry Morrow, Jack Doepke, Tom Walz and others during his life are mixed with interviews of the people who were closest to him with some recreations of Bill as a 7-year-old boy being sent to the institution after his father died.
A full orchestral score by Hollywood trained composer Peter Bloesch deeply enriches the emotional journey of Bill's struggles and triumphs, at times reinforcing the dialogue and visuals, and at others providing an all encompassing sound bed for visual montage.
It is a visual composite of many different film and video formats, of photographs, of music, of narration, of interviews, but ultimately, it is a story about friendship, compassion and hope. While the entire story is based in fact, it is not just a historical recitation of events, but rather an emotional journey where viewers will really have a sense that they know Bill Sackter like a close friend.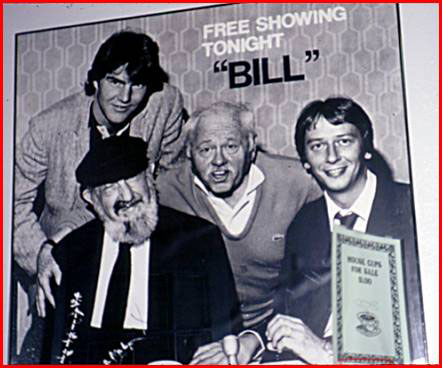 The 1981 made for tv movie "Bill" was extremely popular. Many people across the US to this day remember the movie "Bill" with Mickey Rooney and Dennis Quaid for its powerful and compassionate view of people with disabilities.
Now with the real life documentary, "A Friend Indeed - The Bill Sackter Story" is set to reach a wide and diverse audience with its story of the power of human compassion, and one with universal appeal..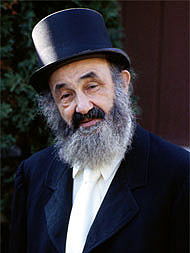 It is a story the whole family can enjoy, and helps to open discussion about the treatment of people with disabilities. It is not just a history lesson. It is the story of an outsider learning how to fit in a world he never knew before he was 50 years old. It is above all a positive story, where Bill walks away from lifelong confinement and instead of being bitter as many in his position would be, he embraces his last years of life to its fullest. All this from a man who simply made coffee and played the harmonica.
This documentary finally puts a real face and personality on Bill Sackter, a person who helped change our society for the better and who has become a hero for the disability community.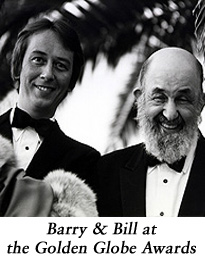 Barry Morrow is one of Bill's closest friends. Barry met Bill at a staff Christmas Party at the Minikahda Club in Minneapolis where Bill had been employed as a dishwasher. Immediately a friendship grew, and Barry took Bill around town and out to nightclubs where his friend Jack Doepke performed. Barry began shooting videotape and Super 8 film footage of Bill, finding him to be a great subject for a documentary, but after a bad experience in taking Bill back to the institution for the film, Barry put the project on hold.
After being offered a job in Iowa City, Barry had to leave Bill because Bill was a ward of the state of Minnesota. Shortly thereafter, Bill was hospitalized and it was Barry's job to tell him that he needed to have his leg amputated and to be sent back to the institution. In an unprecedented move, Barry instead petitioned to become Bill's legal guardian and brought Bill with him to Iowa City.
With Barry's help Bill made a full recovery and Bill soon became a celebrity with the help of Barry, Tom Walz and others in the community. Barry's nomination papers for Bill to become Handicapped Iowan of the Year soon turned into a deal to have Bill's life story turned into a made for TV movie "Bill" (1981) starring Mickey Rooney and Dennis Quaid.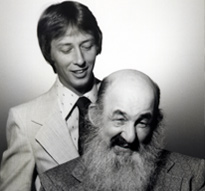 Barry Morrow was honored by winning an Emmy for writing "Bill", and later an Academy Award for writing "Rain Man". Barry has enjoyed a successful career as a writer and more recently, as a producer. Member of The Arc, the National Association of Social Workers , and the Autism Society of America , Morrow is a lifelong advocate for the rights of persons with disabilities.
Other notable writing credits include "Bill: On His Own" (1983, TV), "Conspiracy of Love" (1987, TV), "Quiet Victory: The Charlie Wedermeyer Story" (1988, TV), "The Karen Carpenter Story" (1989, TV), "Christmas on Division Street" (1991, TV), Gospa (1995), Race The Sun (1996) and Milost Mora / Mercy of the Sea (2002).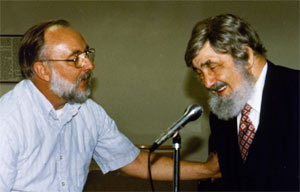 Dr. Tom Walz had been a teacher of the ambitious young Barry Morrow while in Minneapolis, and when Walz was hired as the Dean of the School of Social Work at the University of Iowa, his first thought was to bring Morrow along to add vibrancy to the department. Barry informed Tom that Bill would be part of the package, so Tom pulled strings to allow Bill to work in the department.
Tom's great passion of furniture refinishing provided Bill with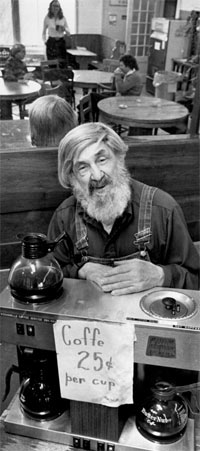 his first employment at the University, but after a chemical fire in the building, Tom was forced to find a new position for Bill. Shortly thereafter, he inaugurated Wild Bill's Coffee Shop in an old classroom in North Hall, and Bill found a place behind the counter serving coffee. And then a transformation took place: the man who'd spent his life isolated from society became one of Iowa City's best-loved citizens, and he did it, according to Tom, through "pure kindness." People of all ages and backgrounds sought Bill out for a joke, a word of comfort, or a rendition of the "Too Fat Polka" on the harmonica he kept in his back pocket.
With Tom's help, various disability organizations came to recognize Bill's extraordinary role in the community, and Bill went on to have a made for TV movie about his life and to be invited to the Whitehouse. When Bill died on June 16, 1983, Tom was determined his friend's legacy would live on. He helped convince the University that Wild Bill's Coffee Shop should remain open permanently and employ people with disabilities.
By 2000, Wild Bill's was beginning to outgrow its University confines. Tom had just retired as a full-time professor, and a new dream began to take shape in his mind: a place where individuals with disabilities could have the freedom to develop their own businesses.
Tom set up the Extend the Dream Foundation to fund this dream - and in September 2001 Dr. Tom Walz saw a long-standing dream come to fruition with the opening of Uptown Bill's Small Mall.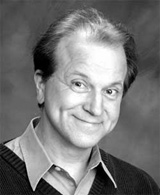 Jack Doepke met Bill through friends Bev & Barry Morrow. Playing guitar 6 nights a week in the 70's with a local 4-piece band, "Denny & The Tornados", Jack had his days free and started driving Bill around for errands, lunch, matinee movies & visits to friends. As they became closer, Bill would accompany Jack to the nightclub, spend the night at his house and goof around recording music and stories on a reel-to-reel tape recorder.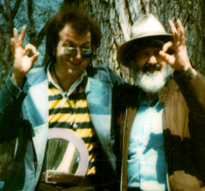 Eventually, Bill would show up at Jack's family reunions, weddings, vacations – wherever! This guy knew how to fit in. . .
Among his many vocations, Jack has been a rock-n-roll musician, 18-piece jazz band producer, Ronald McDonald & Captain Jocko clowns, choir director, puppeteer, cubmaster, guitar teacher, video producer and songwriter. He's recorded 3 children's CD's for Kid Rhino records, 3 videos with Klasky-Csupo, and is currently developing a new business – "Party Pilots" – tribal family entertainment tributes for anniversaries, weddings & retirements.
Jack's wife Carol is a RN; they have 2 teenage boys and live in a small lake community north of St. Paul, Minnesota ("we hear loons at night").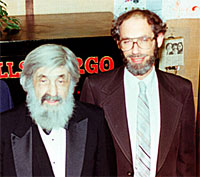 Jeff is the rabbi of Agudas Achim Congregation in Iowa City. When he met Bill he was also the director of the Hillel Foundation, the Jewish student center at the University of Iowa.

Jeff met Bill through Deb Singer who was then getting a master degree in Social Work at the University. Deb heard that Bill was Jewish and introduced him to Jeff. From then on Bill became a "regular" at Agudas Achim, coming every Saturday to Sabbath services and then having lunch at Jeff and his wife, Gail's house. The standard greeting after services is "Shabbat Shalom" – which means Sabbath peace. For Bill that was became a standard greeting for everyone. In fact on his tombstone it says under his name "Shabbat Shalom."

After Barry decided to move to California, Jeff became Bill's legal guardian. It was a time that went very quickly cut off by Bill's untimely death.

The high point in Jeff's experience with Bill was Bill's Bar Mitzvah. Bill was little past the normal age (13) of having a bar mitzvah - he was 66, but it was a huge community event. Bill might not have understood all the Hebrew words but he certainly had more spirit and devotion than most people who have their bar or bat mitzvah. It was a wonderful event.
Bill did not have a Hebrew name, so Rabbi Jeff gave him the Hebrew name of "Simcha", which means "happiness" which certainly characterized the most optimistic happy individual that Jeff has ever met.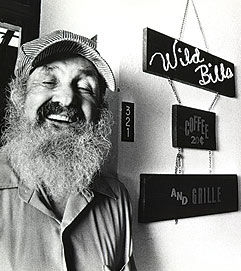 Wild Bill's Coffee Shop
When Bill moved to Iowa to live with Barry Morrow, Bill's new life was just about to begin. Barry's employer at the University of Iowa, Tom Walz, then the Director of the School of Social Work, took a genuine liking to Bill. Tom wanted to help Bill with the one thing Bill desperately needed which was a good stable job. Tom got Bill work doing odd jobs around campus. Eventually, Tom and Barry came up with the idea to have Bill serve coffee in an unused room at the college. The idea was a hit! The students and faculty took an instant liking to Bill and his coffee. Soon it was official, Wild Bill's Coffee Shop was opened in 1975. Bill worked at the shop until his death in 1983.
Wild Bill's Coffee Shop is located on the University of Iowa School of Social Services campus. Wild Bills enjoys a very loyal following of students and musicians who hold open-mike jam sessions and other activities at the shop on weekends.

Also, the newly created Uptown Bill's Small Mall, is an offshoot of the coffee shop facilitated by Tom Walz, houses several businesses that are operated by people with disabilities. Uptown Bill's has been a tremendous success, has received a lot of local attention and has become a shining example of the potential to create businesses that erase the barriers between people with disability and the general public.